A kombucha brewing log is a document in which you record the details of each batch that you make. It provides valuable feedback and insight into your brewing process, and helps you improve over time.
Why you should use a kombucha brewing log?
When you're just starting out brewing, it can be difficult to keep track of everything. Keeping a brewing journal is a helpful tool to help you improve your brew process and recipe quality. The more information you have about every batch, the easier it will be to make future adjustments.
Kombucha is a wild culture, and there is enough uncertainty with the culture itself. You have to control the flavour, the carbonation, and the sugar content. And even when you try to control everything, you can still make mistakes.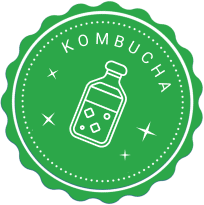 That's why brewing logs are so important. You can learn from your errors if you have the insights provided by your logs!
Kombucha brewing logs are the best way to learn about what has happened in the past. With it, you can measure your success over time and see how you've improved. They can also be used to identify brewing problems that might have gone unnoticed otherwise.
Also, once you've achieved the perfect kombucha recipe, it will help you keep your brewing practices consistent so that you achieve your desired results in future batches.
Kombucha brewing logs contains information about the batch, the starter used, the brewing ingredients, the different metrics at different steps of the brewing process (pH, TA, Brix, Temp, CO2…), the adjustments made (and why), carbonation, kegging/packaging, etc.
Over the years, at Mannanova, we have designed the perfect kombucha brewing log template, for small or large batches. It contains everything you need to make successful brews over and over.
What's inside a kombucha brewing log
Here is a description of the fields, and how to write your kombucha brewing log. Every field is not mandatory, but don't miss important information or you'll feel the pain the day you want to learn from your past brew.
Depending on your local regulations, or certifications, some fields may be mandatory. Please adapt your brewing log to your needs.
Brewing log Intro
Size: your recipe batch size in liter (ex: 50L, 500L)
Kombucha Name: the name of your recipe (ex: Ginger Love Kombucha)
Fermenter: equipment used to ferment your kombucha. If your fermenter don't have a name yet, it's time to find one (ex: Brewzilla1)
Client: If you're brewing this recipe for a special client, then it's where you write it.
Batch/Lot number: this is the place to write the lot/batch number of the recipe you are going to make
Date: write here the date you are starting this recipe
Brewer(s): write the name of brewer(s) that are going to work, and be responsible for that batch.
Starter
Quantity (L): quantity of starter used in the recipe
Fermenter: Where this starter comes from.
Brewing Date: when it was fermented
pH: actual pH (ex: 2.91)
Brix after maceration: actual Brix (ex: 4.3)
TA (% CA): actual Titratable Acidity (or Total acidity). Record pH or TA.
Notes: write the date this log section was written, and any other useful information.
Brewing
In this section, you add all the ingredients used for brewing. You will certainly add the following ingredients here: Tea, sugar, starter, and acidifier. And depending on your recipe ingredients, you might add ingredients that will provide flavor (ex: ginger), color (ex: activated charcoal), and texture (ex: Xanthan Gum).

Ingredient: name of the ingredient used (ex: black tea).
Lot number: lot number of that specific ingredient (ex: 20218461BA13).
Qty. / L: the quantity of that ingredient used per liter of your total recipe (ex: 1.00 g)
Total Qty: the total quantity of this ingredient used in this batch (ex: 700g)
Notes: write how you've used that ingredient (ex: for tea it could be "2 infusions of 50L at 85°C", and for sugar it could be "Dissolved in hot infusion")
Date: on the right side of the page, next to Brewing, write the date of your brewing
Transfer
The transfer is just after brewing, and filtration. It's time to do your first quality check. You record here the pH (or TA), and the Brix. You also write the date of the transfer, and any useful notes.
Adjustment & addition
Based on the pH, and Brix of your brew, you might want to adjust the sugar, or acidity level. Also, based on your recipe, you might want to add some ingredients. This section use the same structure as in Brewing.
Parameters / Validation
You write the parameters of your brew after having done the adjustments, and any addition. This is where you check that your adjustments have worked.
Carbonation
You write here the PSI value used to carbonate your kombucha batch. In the notes, you write any comment about the duration, and how it went.

Kegging / Packaging
This is the end of your kombucha brewing process. You are now recording what the final product look like.
Start Time: when you start kegging or packing your brew
pH: actual pH recorded (ex: 3.31)
Brix: actual Brix (ex: 4.7)
Sensory test: what does it smell or taste?
CO2 testing: if you test your CO2 post carbonation, this is where you write the value.
End Time: the time you finish your kegging or packing. Also, the note section is the perfect place to write how you kegg it (ex: 12 x 20L + 6 x 30L + 5 x 50L…)
How to keep you kombucha brewing log
In the end, the kombucha brewing log is a tool for you and your business. You can choose to fill your logs electronically, but you might prefer pen and paper to keep electronic devices away from your brewing space.
Keep your brewing journal in a place you can find it easily. Get back to it if you want to add a comment about your batch, or when you want to make a new batch. It will help you improve your kombucha brewing process, and recipe quality incrementally.
Download the kombucha brewing log
You can download the PDF of the kombucha Brewing log here:
Going further
The kombucha brewing log is one of the tools provided in the Kombucha Masterclass course. Register for the Kombucha Masterclass to learn how to start, grow, and scale your kombucha business.